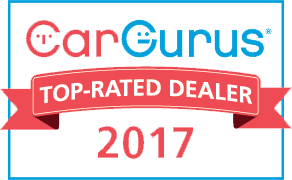 Lockhart Motor Company Receives CarGurus' "Top Rated Dealer" Award
for Highest Shopper Ratings
Lockhart TX, 2017- CarGurus, a leading consumer automotive car shopping website, today announced it has named Lockhart Motor Company a "2017 CarGurus Top Rated Dealer." The annual CarGurus Top Rated Dealer awards are presented to a select group of car dealerships that have received the highest average ratings from shoppers who have submitted dealership reviews on the CarGurus platform. CarGurus uses shoppers' dealership ratings as well as comprehensive valuation analytics to help shoppers search their local marketplace and find the best car deals from the best dealers.
"We are thrilled to recognize Lockhart Motor Company as a Top Rated Dealer," said Bill Connelly, Director of Customer Success. "Based on CarGurus' shoppers' ratings, it is clear that the team at Lockhart Motor Company is delivering a superior car shopping experience for their customers, and we applaud their high standards for excellence."
"Since 1926 we've been treating each customer like they're the only one we have. Keeping our sales process transparent and guaranteeing our customer service, and we're glad that CarGurus have taken notice." said Tim Clark, GM.
CarGurus invites shoppers to review and rate dealerships with whom they have interacted during their car shopping experience. Dealer ratings and reviews are visible to the public on the site, and they are also factored in the algorithm that CarGurus uses to rank search results for shoppers.  According to recent CarGurus poll, 78% of shoppers say they will not buy a car from a dealership without first seeking out reviews of that dealer from other shoppers.
About CarGurus
Founded in 2007 by Langley Steinert, co-founder of TripAdvisor, CarGurus is a leading online automotive shopping destination focused on bringing transparency and efficiency to the car research and shopping experience. The site uses technology and market data analysis to help millions of automotive shoppers search for cars and quickly identify the best deals from top-rated dealers in their local area. Today, the site serves more than 20 million unique monthly users and more than 15,000 car dealerships, and ranks #1 among car shopping websites in the U.S. by daily unique visitor traffic. CarGurus also has sites in the UK and Canada.